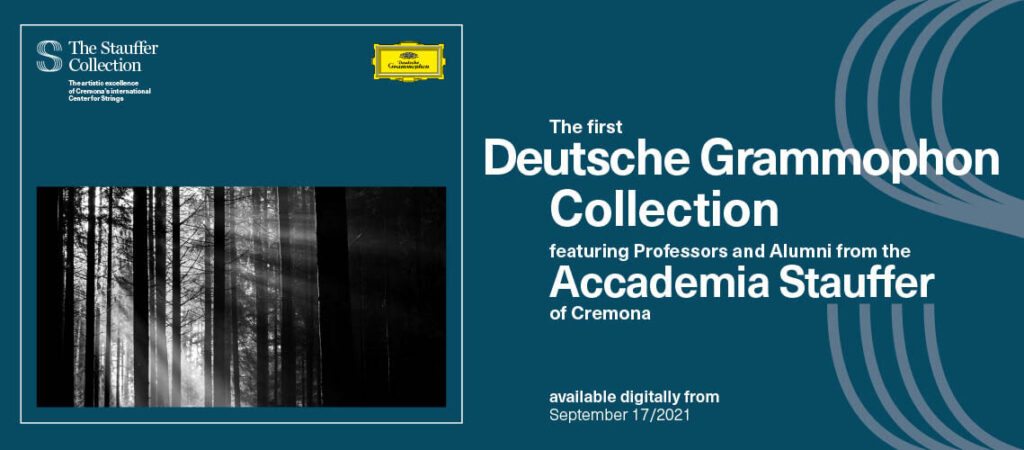 In anticipation of the official opening – on Friday, October 1 in Cremona – of the Stauffer Center for Strings, the first international music center entirely dedicated to string instruments and the new home of the Stauffer Academy, General Director Paolo Petrocelli announces the special release of "The Stauffer Collection," the first album celebrating the artistic excellence of the Stauffer Academy, with a previously unreleased collection of some celebrated Deutsche Grammophon recordings by its faculty and alumni.
Distributed by Deutsche Grammophon – Universal Music Italia, the album is available digitally on major online platforms from September 17, 2021.
The collection features a selection of splendid performances, from the classical repertoire to contemporary music, recorded by the Stauffer Academy's influential Maestros Salvatore Accardo, Bruno Giuranna and Antonio Meneses, by some of the best alumni (now particularly established soloists) such as Francesca Dego, Nemanja Radulovic and Sergej Krylov, and by a select group of extraordinary artists who will collaborate with Stauffer from the next academic year 2021 – 2022, among them:
Lisa Batiashvili, Daniel Hope, Aleksey Igudesman, Gabriel Prokofiev, Peter Gregson, Roby Lakatos, Ödön Rácz, Maddalena Del Gobbo and Avi Avital.
"In a world that rarely puts culture first, and where the dissemination, or even the survival of that classical music we love so much and need so much is problematic, the Stauffer Foundation represents a wonderful reality," says Mirko Gratton, Director of the Classical and Jazz Division of Universal Music Italia.
"Its constant commitment, determination and the results it achieves certainly do not need to be emphasized: they are there for all to see. In this sense, a collaboration with Universal Music Italia, which has always been an active player in the classical recorded music sector with leading brands such as Deutsche Grammophon and Decca, is an inevitable consequence, so to speak a natural one. We are therefore pleased to have been able to join in the preparation of the collection presented today, which represents a showcase of some of the most prestigious artists who in the recent past have collaborated or still collaborate with the foundation and with the famous "yellow label." The hope is that this album, which is available on the main web platforms, will help bring prestige to the foundation and represent only the first step of further collaborations that will help spread classical music, which has so much to communicate to today's youth, in Italy and around the world."
"The Stauffer Collection" is part of the ambitious project, conceived by Paolo Petrocelli, General Director of the Stauffer Center and the Stauffer Academy, to support the best talents of future generations of musicians.
The collaboration with Deutsche Grammophon/Universal Italia represents Stauffer's first important step forward on the music production front. In fact, the publication of this precious collection marks only the beginning of an important path of collaboration with the iconic German record company and the Universal Music group, aimed at promoting with even more strength our artistic vision, founded on the principles of excellence, innovation and internationality.

PAOLO PETROCELLI – GENERAL MANAGER, STAUFFER CENTER FOR STRINGS